Insight
The RBS 6 Nations tournament - it's a big deal for all of Scotland. It's a chance to show what we're really made of. And it's a great chance for Caledonia Best, official sponsor of Scottish Rugby, to show that it truly represents this country's best.
The brand's new platforms - the celebratory 'Made of Scotland' and the rugby-specific 'Passion and Pride' - were rich territories for doing just that, lionising both pint and team while rooting their strengths in Scotland.  
Our specific role was to bring the campaign to life on match day and beyond, raising awareness about the brand's sponsor status, and letting people know they were 100% behind the team's success. Most importantly, it was our job to galvanise the on trade crowds and get them in a roaring mood. To do so, we would:
"Bring the Scottish rugby experience, in all its glory, into bars, pubs and city centres"
We adopted a multiple tiered activation strategy, combining larger events to host hundreds of fans with in-bar elements that brought the stadium environment into the on trade.
Work in Progress
What We Did:
We made sure every fan got a taste of the 6 Nations experience, even if they couldn't make it to the game. We accomplished that through a mix of viewing events, rugby-related games and eye-catching designs.
Rugby "fan zones"
Rugby "fan zones"
We created three "fan zones" to serve as rugby hubs at the heart of the Edinburgh for match day. Each was supplied with bespoke large format signage, live projectors to amplify the action, Caledonia Best mobile bars, branded gazebos… and one very fun, arcade scrum machine.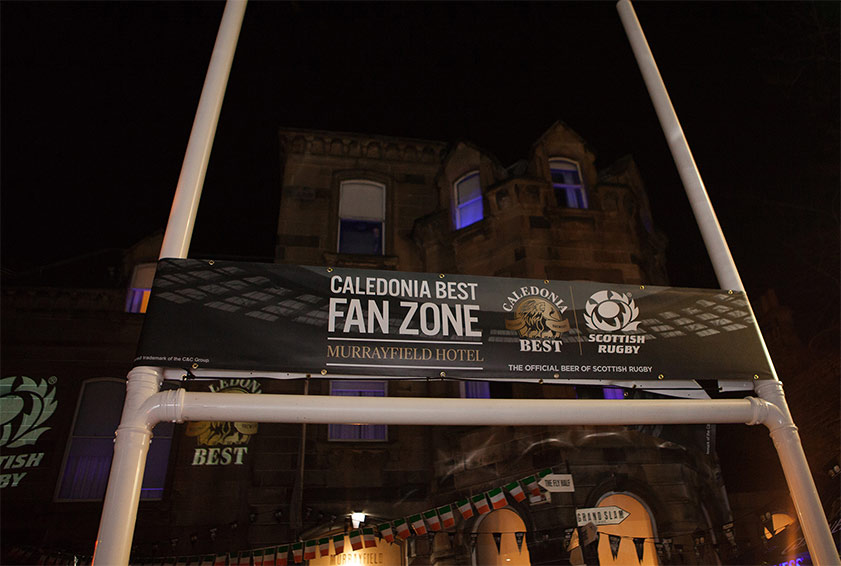 Outlet Visibility
Outlet Visibility
The launch was supported in-bar with visibility kits - brand posters, drip mats, bar runners, staff t-shirts, you name it - to reflect all the passion of Scottish rugby. In total, 27 outlets across the east coast took part.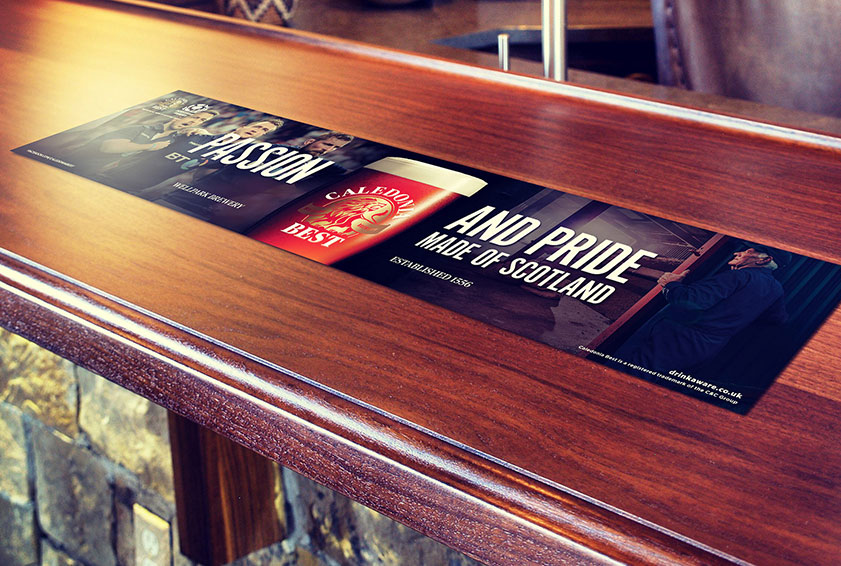 Scrum Machine
Caledonia Best Scrum Machine
We thought the fans deserved to get in on the action too. So we made an electronic scrum machine for them to show off their strength and their passion, and toured it from venue to venue throughout the tournament. To make things even more exciting, we offered a pint to anyone brave enough to "scrum and have a try."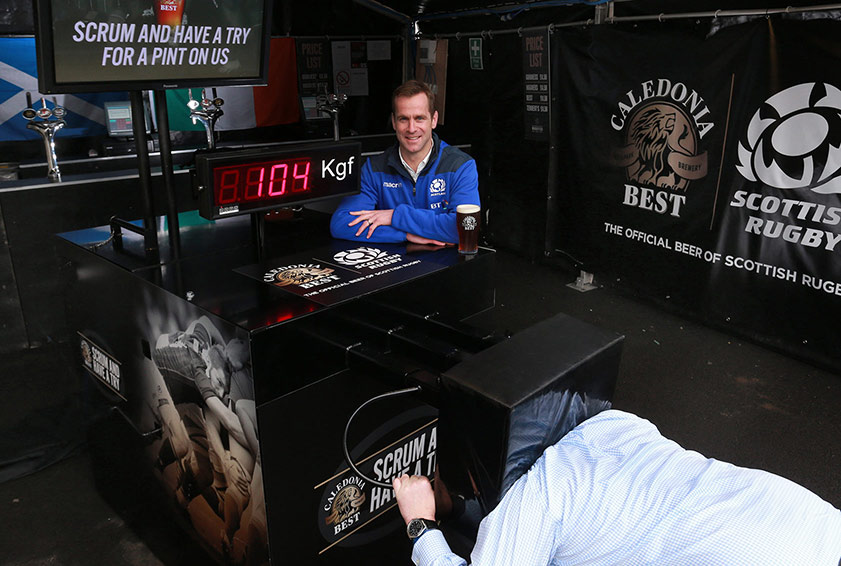 The Finale
The scrum machine was a very welcome departure from what people were used to from the sports experience in bar. It proved to be a big hit with the fans (the free pint definitely did not hurt). Our fan zones made sure that people without tickets to the game got to feel all the excitement of the stadium, uniting to cheer on Scotland.

Results