Insight
Lea & Perrins is the number 1 Worcestershire Sauce brand in the UK, with a dominant volume share of the category. This kitchen cupboard favourite is commonly used to add flavour and flair to traditional dishes including Spaghetti Bolognese and Lasagne. However, new innovative category entrants and more international flavours meant that shoppers were broadening their repertoire and forgetting about this tasty, classically British sauce.
As part of a broader strategy focused on inspiring a younger generation of cooks to use Lea & Perrins in their everyday dishes, we explored the different usage occasions for the sauce within both meals & drinks. We noticed that many of these Lea & Perrins 'moments' revolved around brunch, an increasingly popular weekend social event. And the number one alcoholic drink consumed at Brunch? The Bloody Mary.
We used a classic cocktail, the Bloody Mary, as a vehicle to refresh the relevancy of Lea & Perrins - and how a dash makes all the difference.
The true origins of the Bloody Mary are as murky as the drink, but legend had it this classic tipple was stirred into life back in 1921 by Fernand Petiot at Harry's New York Bar in Paris. This gave us the perfect foundation for our campaign. What better way to convey taste and quality than using the allure of this gourmet capital? It also allowed to us to formulate a bold - just like the taste of Lea & Perrins - message that dovetailed with the usage occasion.
The Bloody Mary. Making morning drinking socially acceptable since 1921.
While centred around the main event of "Brunch in Paris", the campaign was much more than a dash in the pan. By capitalising on the awareness and attention gathered by the competition, we would show a new generation of potential Lea & Perrins users what tastes the brand could bring into their lives.
Work in Progress
Our underlying ambition with this campaign was to shifting deeply rooted perceptions about a highly established brand. So, in order to disrupt shopper behaviour and reposition Lea & Perrins for a new audience, we combined tactical in-store solutions with appetising awards and tasteful outdoor and digital advertising. Here's the behind-the-scenes on the key aspects of the campaign:
On-pack Promotion
On-pack promotion
To drive on-shelf awareness and build rate of purchase, Multiply developed an on-pack promotional campaign designed to position Lea & Perrins as the vital ingredient in a Bloody Mary. Consumers had the chance to win 'Brunch in Paris' – a VIP weekend trip to the French capital via Eurostar and a luxury hotel.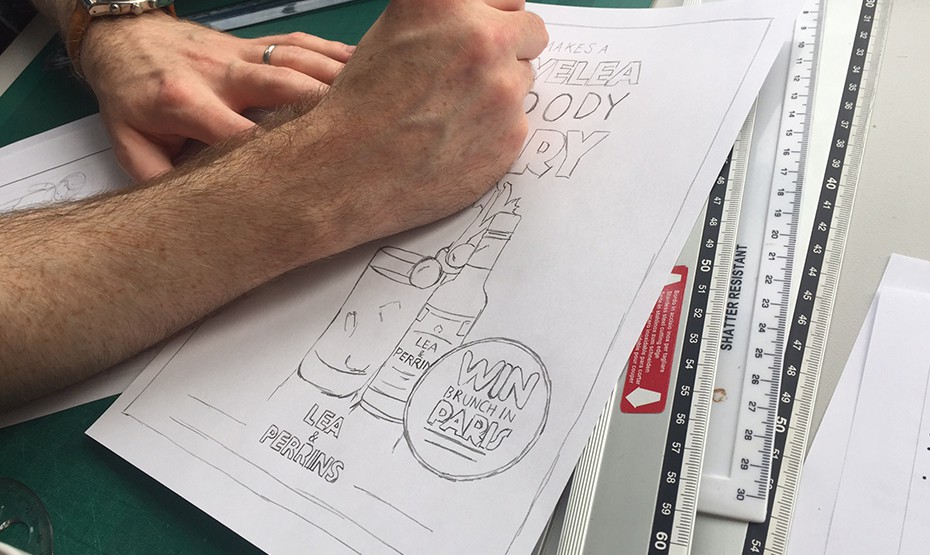 Competition
Competition
The mechanic used our proprietary 'Winning Moments' digital platform, where consumers simply tapped in a unique code from packs into a bespoke microsite to see if they'd won a top prize or hundreds of runner up Bloody Mary kits.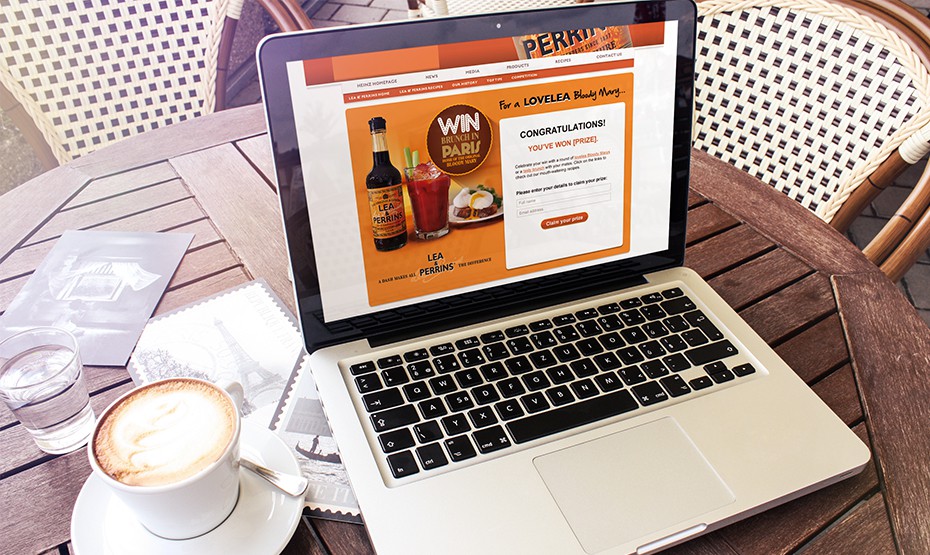 Shopper Journey
Shopper Journey
At every consumer touchpoint, we built the affinity between Lea & Perrins and the Bloody Mary, developing branded units that displayed all the ingredients required to prepare the perfect drink (lemons, tomato juice etc.) and offered secondary siting opportunities in store.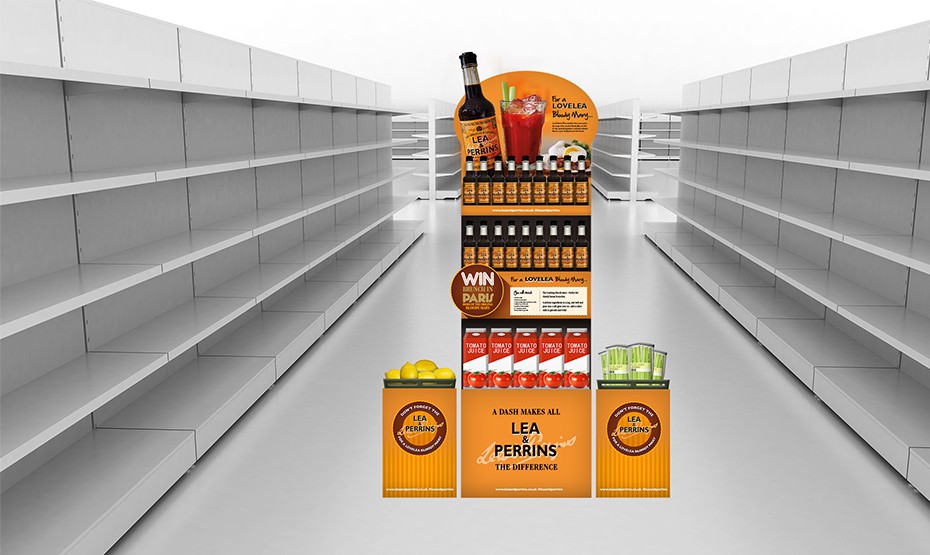 Exposure
Exposure
To capitalise on the brunch occasion, we created digital posters outisde flagship retail stores which targeted shoppers with a timely message. We also developed a digital media partnership with Stylist Magazine (Emerald St newsletter) offering readers the chance to claim a free brunch Bloody Mary at a selection of London restaurants.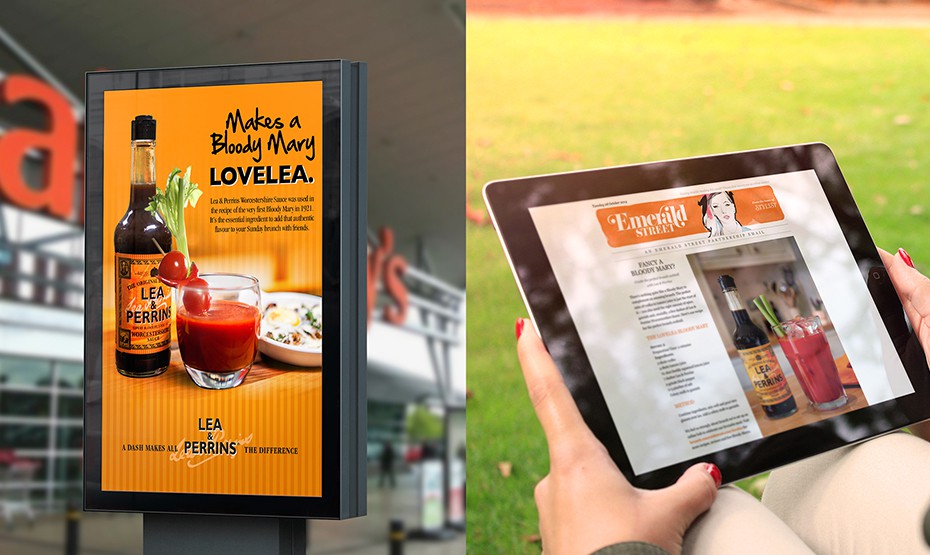 The Finale
The campaign was communicated on over 600.000 packs of Lea & Perrins which enjoyed a play rate of over 4% (industry average is c. 2-3%). The campaign also significantly shifted the shopper demographic into a younger audience who had previously not seen Lea & Perrins as a relevant brand choice.
For more information on how we used our bespoke shopper tools Multipoint and Multiplan to assess store media effectiveness and build a robust shopper touchpoint plan, just get in touch.