Insight
Working in the financial and retail sector, we've long been aware of the importance of employees having accurate and up-to-date product and service knowledge.
The benefits of this are clear: if employees can retain key product knowledge in their heads throughout the year they'll be fully equipped to hold successful conversations with their customers.
Providing self-check quizzes on a regular basis is a great way to embed knowledge and identify any weaknesses across a company. Make it slick, fun and easy to use on a mobile or tablet on the way to work and it starts to sounds like a winner.
HOW IT WORKS
We created a short, sharp and engaging user experience, supported by fully customisable MI for managers.
Shaping the solution
Shaping the solution
We partnered with one of our long-term clients to shape a solution that was based on the solid foundation of a proven learning model – that regular repetition of questions and feedback will embed knowledge as learners practise retrieval of knowledge from memory. 
The result was a bespoke, multi-platform knowledge tool called 'Brainbox' which delivers regular, short, sharp multiple-choice questions to users on days and at times of their choice. Brainbox is underpinned by a comprehensive database that uses a sophisticated algorithm to select a user's questions based on their previous answers.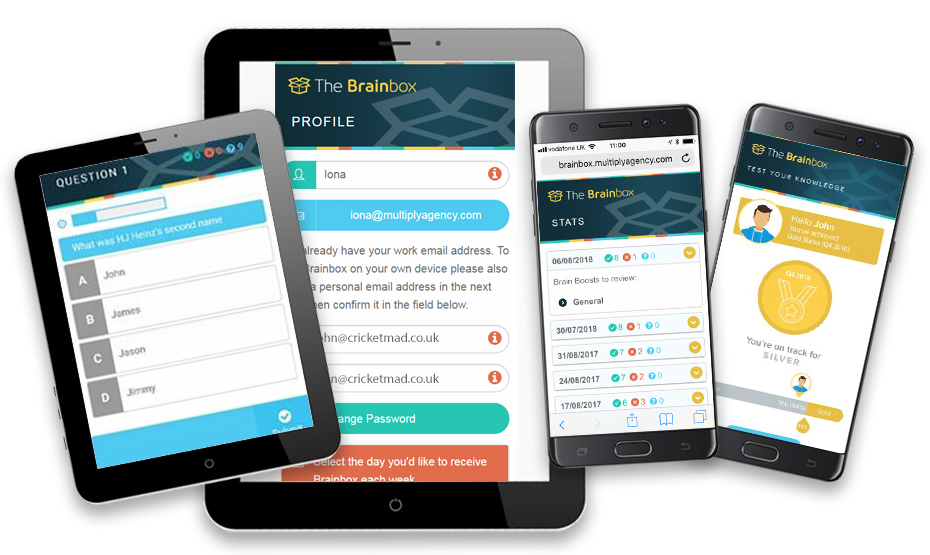 Responsive and engaging
Responsive and engaging
Brainbox is fully responsive, running on individuals' own devices (e.g. mobile phones and tablets) as well as on workplace desktops.  Users can personalise the experience by choosing their own avatar or photo and deciding which day of the week and at what time they receive their questions. They're kept up to date with their progress towards bronze, silver and gold attainment levels and given feedback that encourages them to fill in any knowledge gaps in specific areas.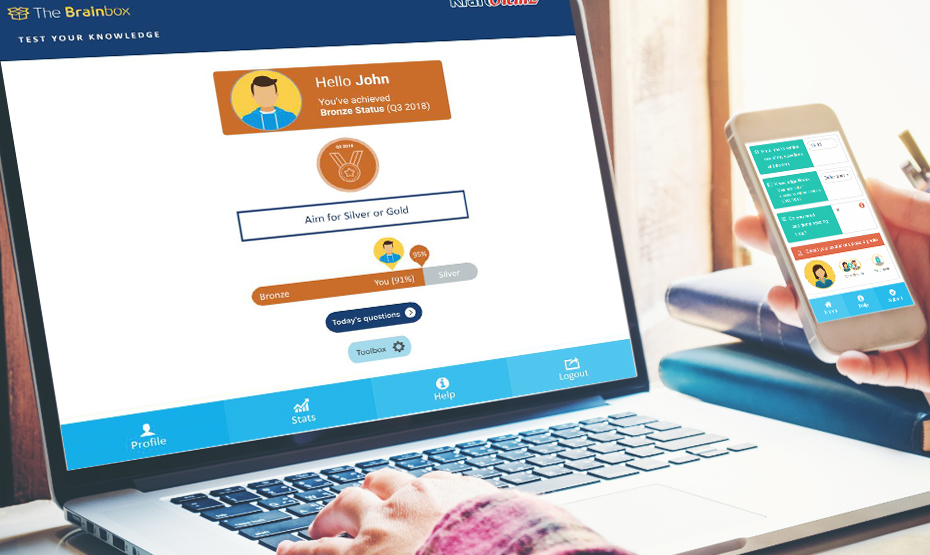 MI at a glance
MI at a glance
Brainbox also includes a comprehensive dashboard functionality that's easy to access and delivers tailored statistics.  Managers can access data across area, branches and products, helping them to identify trends, pinpoint any development areas and refine questions for the future.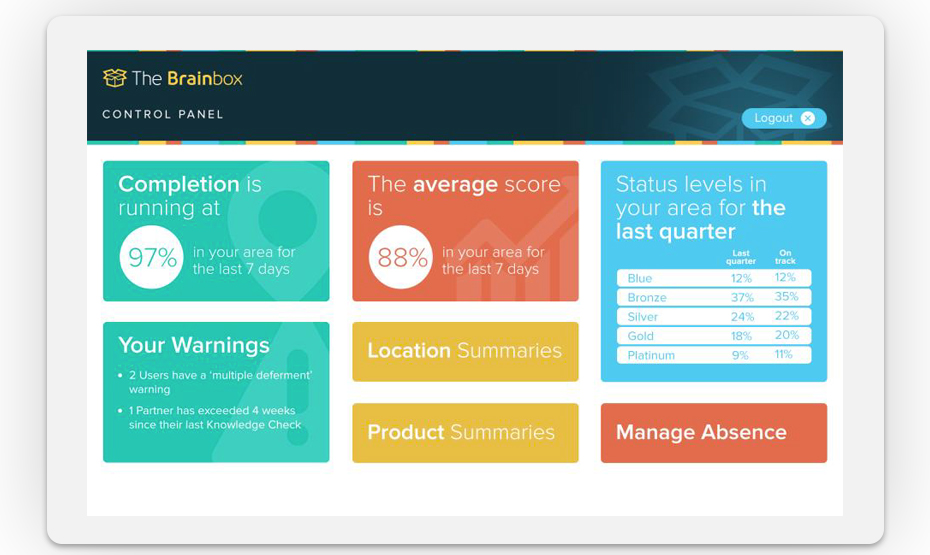 Results
Brainbox is being used by a variety of clients in the financial and FMCG sector to maintain and improve product and service knowledge. 
Feedback has been overwhelmingly positive.  Here's what users have said about Brainbox:
I love the fact that we have questions on the day and time that suits our needs."
An excellent tool that allows you to keep knowledge alive frequently – it's competitive and fun."
Really easy to use. Motivates me to do the questions as there is great banter amongst the team."