Insight
As one of Scotland's most prestigious whiskies, Highland Park's limited edition launches tend to be cause for celebration. Great for customers looking for something extraordinary, they're also perfect opportunities for the brand to showcase its storied Nordic heritage.
Highland Park Fire Edition is no exception. Encased in a stunning crimson bottle and full of warm, spicy flavours, it was inspired by the Viking sagas of the Poetic Edda. This tome of Norse poems tells of a battle between the gods and the fire and ice giants that leads to the destruction of the old world in a fiery inferno, and the subsequent rebirth – Ragnarok – of a new one from its ashes.  
This fiery new single malt would meet the world at an exclusive release at Harrods around the busy holiday season. Our task was to develop an eye-catching display for the famous Harrods window, and for digital screens. To do so, we started by asking this crucial question:
"How can we bring the epic story behind the bottle to life in a store setting?"
We decided to fight this Fire Edition challenge… with fire. Simple yet effective, there was no better symbol to convey the sentiment of the product. For maximum effect, we would make use of moving image – which we knew captured more attention than static displays – to show fire in all its energetic, evocative glory.  
What We Did
What we did
We began by finding the best visual cues to ignite interest in the product and represent the brand. Then we got into the exciting process of building the concept, taking it from black and white drawing to display.
Creative
Creative
Among our initial concepts, one shone brightest – the image of a fireball, glowing behind a suspended bottle, making it look almost as if the fire was emanating from the whisky. Encased in mirrors, it also gave a rich, real feeling of depth.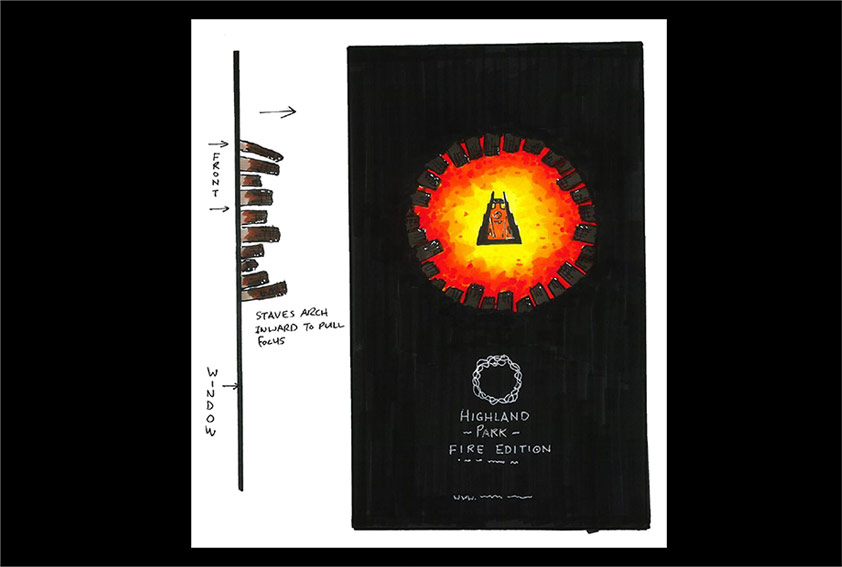 Production
Production
For the digital screens, our motion graphics team created a moving ad which featured on the digital 6 sheets at doorways and strategic points throughout the store, including next to the iconic Egyptian Staircase.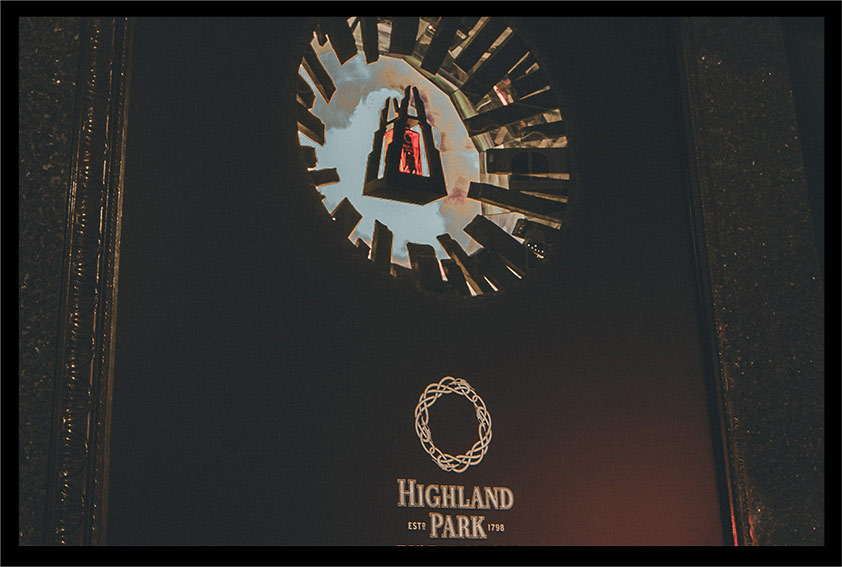 The Finale
Multiply produced an eye-catching window display to showcase the exquisite packaging of Highland Park Fire Edition. Whilst we had the option to fill the entire window with creative, we felt it was more effective to focus on a moving aperture. The Highland Park Fire Edition window was live from the 31st October – end of December.

The best Maxxium window display to date, and the best window display in the store at the time.
Nick Fleming, Head Spirits Buyer, Harrods